We believe the right analytical tools have the power to help every student aspire to more. Since 2001, this philosophy has driven us to create some of the best insight analysis in the education sector. While our sophistication has multiplied, our purpose has remained the same – to reveal stories, give new perspectives, help teachers make informed decisions and encourage every student to achieve their maximum potential.
Dr Kevin Conway CBE developed the thinking behind Alps during a 25-year career in education. He strongly believed in the power of analytical insight in helping people from all backgrounds to achieve their potential. His techniques were first put into practice at Greenhead College, Huddersfield, while he was principal from 1987 to 2001, a period in which Greenhead was transformed from an average college into one of the top performers in the country.
Kevin founded Alps following his retirement as a way of sharing his vision and ethos: that each person is an individual, an exception, and is to be valued. He applied this to both students and staff. He was renowned for his vision, leadership and strong faith, and was unstinting in his efforts to encourage all teachers to realise the potential of their students.
Kevin sadly passed away in 2012, but he left a powerful legacy. His passion and philosophy still drive us, and Alps now provides analysis and training to hundreds of schools and colleges every year.
Alps' 3 underlying principles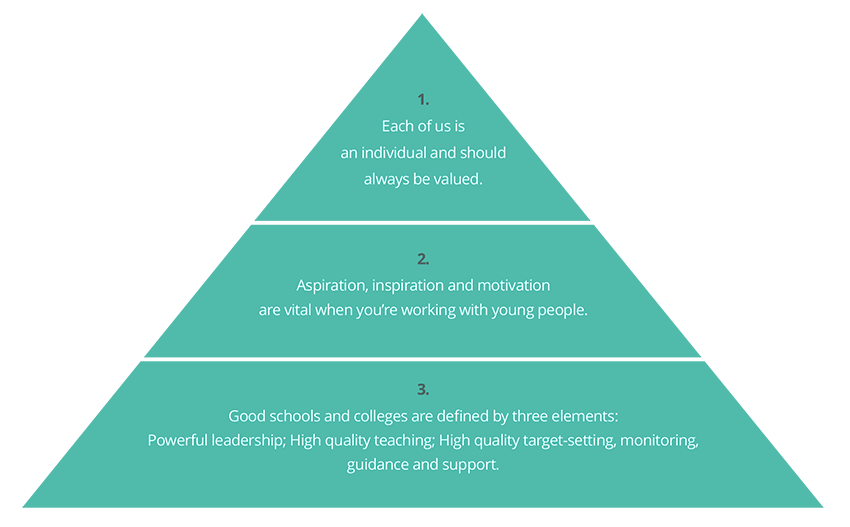 Compassionate rigour
We're committed to putting students at the centre of all our endeavours. We believe the way to do this is to set demanding but achievable targets for both staff and students. We also believe in challenging everyone to be aspirational, holding poor performance to account, whilst giving teachers effective tools and support to help their students pupils achieve as much as possible.
Aspiration
Every single student should be encouraged to achieve to the very best of their ability.
Equality
We believe every student's targets should be based on ability, not their social background, ethnicity or whether they're male or female.
Quality
We're at the forefront of educational innovation and excellence. We're committed to our partners and provide a service of outstanding quality.