1. For teachers by teachers
Our founder was a college principal and Alps continues to be developed by teachers. That's why our systems are so simple to use and so in tune with what you need. We employ a team of educational specialists, ex-senior leaders in schools and colleges, to provide best practice training to embed Alps and ensure you're getting the best insights out of your data analysis.
2. Aspirational targets
We believe every student deserves every chance of reaching their full potential. So Alps gives each student a 'realistic but aspirational' target, based on their level of ability, not their background. Our benchmarks are based on the national dataset and we know that reaching Alps aspirational targets can really improve the life chances for those students.
3. Timely insights
Alps analysis is available when you need it most – at the start of the autumn term. That means you can use the insights to set your targets and shape your strategy for the year ahead. But you can also stay on top of your progress by using in-year monitoring through Alps Connect Interactive. It's a great way to spot potential issues and make the right interventions while they still count.
4. We know education
We understand the challenges of the sector and the pressures you work under. We keep abreast of the ever-changing, fast-moving world of education, which ensures our analysis is relevant and helps our users adapt to complex changes in their working lives.
5. Proven to work
Our robust methodology and data sets are used by over 1,300 schools and colleges and are proven to get results. Ambitious schools and colleges who embrace our system find they're able to maximize the potential of every student. And, because we use the national data set for our benchmarks, you'll always get an accurate picture of how your school or college is performing.
6. First class service
We're renowned for the quality of our service. Our expert staff aren't just knowledgeable, they're also approachable. So if you need any help, we're always available to provide the support and advice you need.
Alps has been developed over many years to provide specialist support for Key Stages 4 and 5. We deliver seamless analysis and tracking from Year 7 to Year 13.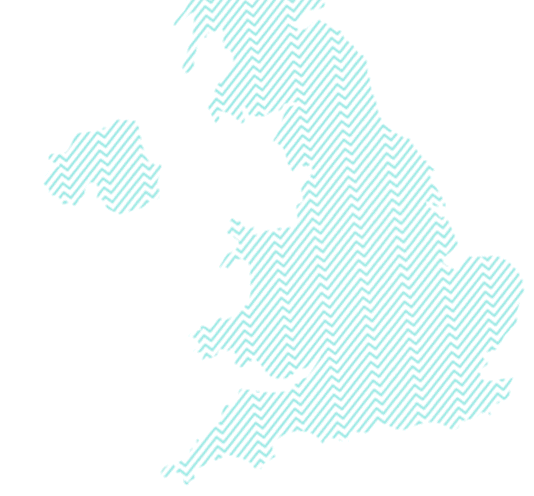 We have two decades of experience in tailoring our analysis and insight to schools in the UK and British curriculum international schools. So whether you're based in England, Malaysia, or the UAE, our relevant data and baseline statistics will help you improve student outcomes.
Connect is clear, quick, and easy to use. Immediately see where student progress is on track or behind, giving you back precious time to take action where needed. Alps Connect is your partner in accessible, actionable insight across the year.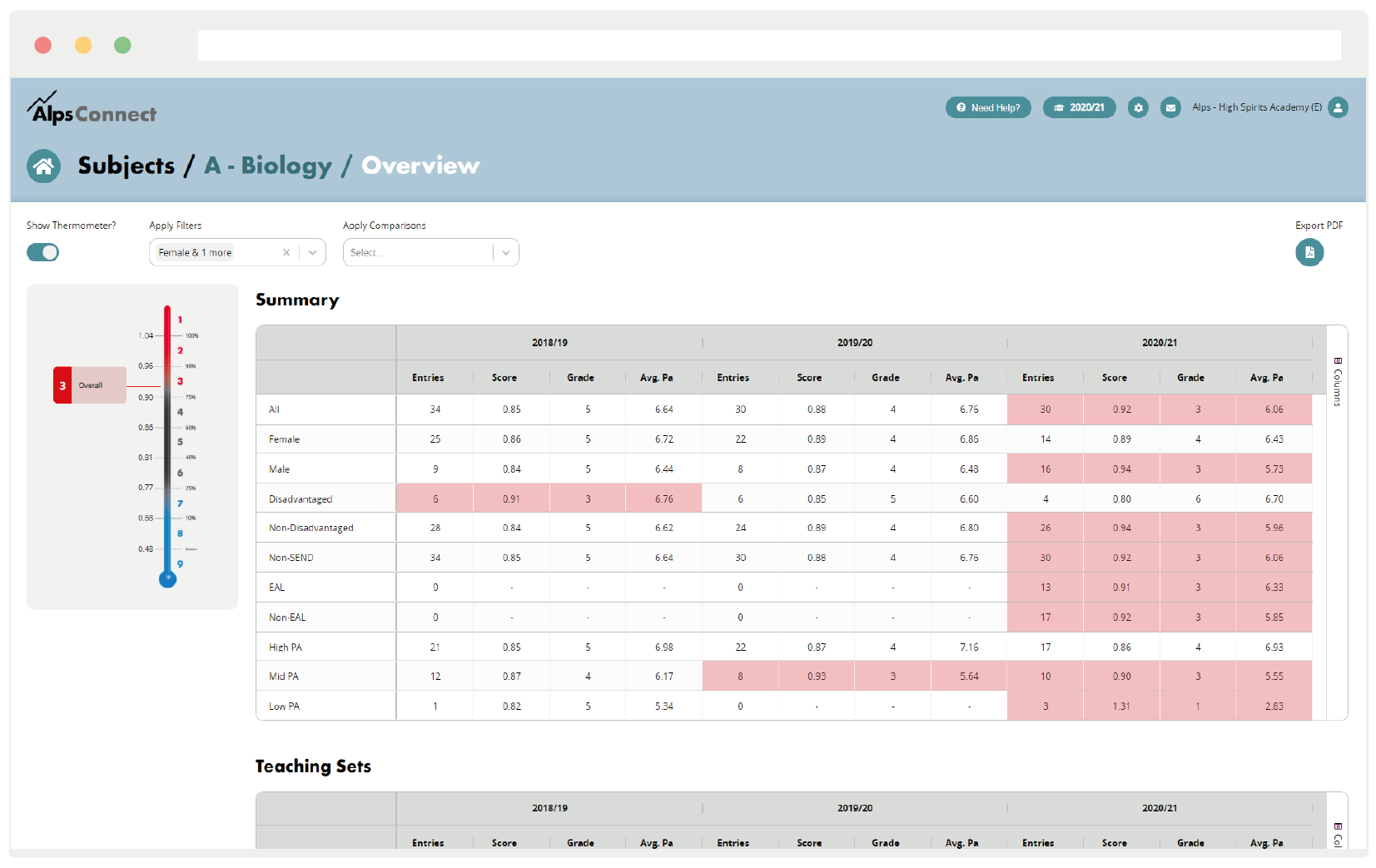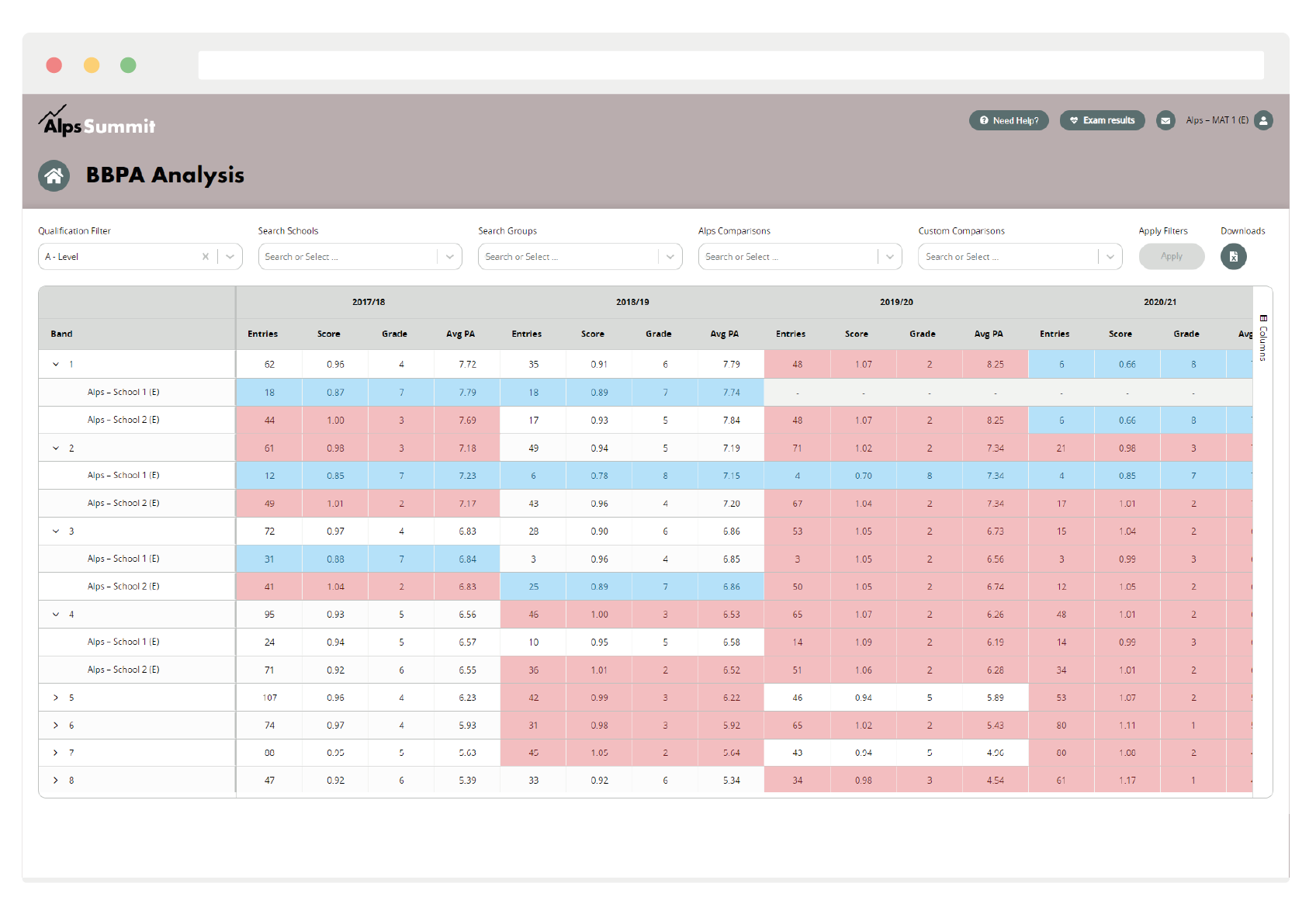 As a MAT, LA or 
G
roup, navigating assessment data across your schools and colleges
is essential but 
can be complicated and time-consuming. Alps Summit
 is your
hub for swift, actionable insight into performance.